The Driehaus Awards for Fashion Excellence
Designers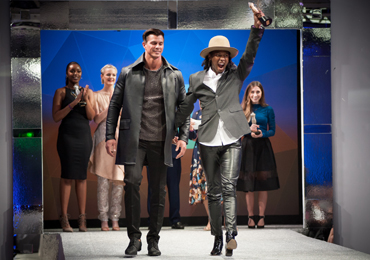 The student designers who receive the opportunity to participate in The Driehaus Awards for Fashion Excellence represent the best in innovation, craftsmanship and creativity of emerging talent in Chicago. The selected designers are some of the leading students in fashion design from their respective programs.
Applications are only considered from junior and senior fashion design students enrolled at partnering schools. In reviewing applications, the Driehaus Awards for Fashion Excellence selection committee considers the student's overall brand vision and commitment to the business of fashion. The selection committee evaluates each candidate based on the merits of their collection and their professional potential.
The meticulous selection process assembles a group of up to 25 students showcasing a variety of ready-to-wear, bridal wear, evening wear, outerwear, sportswear, and wearable art collections at The Driehaus Awards for Fashion Excellence. Selected students showcase their designs in a runway show competition judged by a panel of fashion industry experts.
Driehaus Design Initiative provides cash prizes and trophies to the top three designers. Up to five designers may receive honorable mention recognition. Awards include:
First Place award of $7,500
Second Place award of $5,000
Third Place award of $2,500
Honorable Mention award of $1,000
Distinguished Designer award*
*This award is presented by a judge representing a retail partner to the designer whose collection best represents the store's brand and customer.
Past retail and first place awarded designers have received window and retail displays at major Chicago retailers' flagship locations including Neiman Marcus, Saks Fifth Avenue, and Macy's, and additional mentorship opportunities and prizes.
Participating students have also received exclusive invitations to mentorship luncheons, behind-the-scenes tours of fashion venues including the costume collection at the Chicago History Museum, and Runway to Showroom®: Driehaus Business of Fashion Symposium.
2018 Designers
MARIA ANGJELI
Art and architectural details found in Byzantine churches inspired
Haute Immense
eveningwear collection which evokes beauty and reverence for Byzantine history.
MARIA BENIARIS
Anaphoric Island
is a reflection on Florida summers with her grandmother, mother and sister as they escaped the suburban Midwest. It was a time for celebrating leisure, escaping everyday life and growing together as women.
KEELY COSGRIFF
A Brush Stroke, A Needle Stitch
captures the spirit of Taiwanese artist James Jean with embroidered flowers, decorative stitching, and fabric manipulations.
AMY DIAZ-HABLICH
Paraíso Tropical
celebrates the richness and beauty of tropical South America. Through elaborate hand-sewn beading and embroidery, bold fabrics and colors, one can envision a world of tropical paradise.
DIANA ELIZABETH
Mexico de Noche
exhibits the rich culture, art, and fashion for which Mexico is known in an elegant and modern way.
ANAIS GLASS
A contemporary streetwear collection,
Boundaries
, explores how layers create boundaries between our bodies and the world, and draws inspiration from American mangrove forests.
ADREAIN GUILLORY
Roots & Rituals
celebrates the beauty of repetitive traditions that go unnoticed within cultural communities by breaking stereotypes and bathing in unfamiliarity.
MEGAN HICKEY
Façade
evokes illusionary elements of Roman Renaissance and Baroque architecture demonstrating how change in perspective generates curiosity about what is necessary and what is not.
LINDSAY HOLESO
Equilibrium
focuses on sustainability by using natural and recycled fibers and texture to represent bleached coral and is inspired by the 2016 scare of the Great Barrier Reef dying.
SOL KANG
Aging
represents the collateral beauty shown in human aging and finding the beauty in the external and inner maturity of a person who changes with time.
XIZHENG LIU
A blend of sportswear and streetwear,
Self-Identity
takes inspiration from the energy and balance of playing basketball, and the ideas of hip-hop which celebrate breaking from conventions and "representing your hood."
GRACE CAMILLE MILLER
Damien Hirst's shipwreck exhibition and a recent trip to Venice inspired
Swallowed
which remembers the fantastical city of Venice, a century from now after it has completely vanished into the Venetian Lagoon due to increasing sea levels.
BRIANNA NEAL
Designed for a 2018 signature African-American doll,
DAHL
emphasizes African Prints and bold colors, showcasing her fearlessness and passion for her heritage.
CAROLYN NI
Evelyn
tells the story of the Phoenix as a tribute to her late grandmother, Evelyn, and highlights the fire and strength in all women.
FABIO EMMANUEL MARTIN QUINTAS
A Girl's World
is a feminine approach to utilitarian details, man-made organic architectural shapes, and men's-inspired silhouettes, presented as a capsule collection.
RACHEL RADULESCU
Motorcycle, cyberpunk, motocross, and goth styles inspired
Façade Via Media
featuring original creations mixed with refurbished garments. Embellishments give thrifted items a new life with attitude.
SHAQUITA REED
Japanese Boro textiles inspired the streetwear collection,
Mended
, which explores different shades of denim, textiles, and stitch work.
AJA SAVERSON
Inspired by traditional African garments with a modern twist,
Kweenage
embraces the beauty of black women. Modern silhouettes and traditional African headpieces remind us that the inner queen must shine on the outside.
JUSTIN SUON
Based on his presently endangered Cambodian cultural heritage,
Extinction
is a contemporary evolution in menswear, converting traditional costume into fashion by means of paying respect to his people and setting a mark in history.
MAXIM THATCHER
Art Deco
is a nod to the elegance and modern designs of the 1920s, a decade which has been an inspiration to many, including architects, artists and designers.
B. VAN HOOZEN
Influenced by the 1970s,
Enchanted
features functional winter wear with a vintage chic aesthetic inspired by The Netherlands.
LUIS VILLALON
Aiming to make women feel strong and beautiful,
Feminism
celebrates 1950s fashions and silhouettes.
ELY WEITZMAN
The Factory, My Home
explores characters that live in a suit factory creating a metaphor for the interjection of his personality into a sterile environment.
COURTNEY WOODARD
Interruptions
is inspired by interruptions in art and culture during the 1960s demonstrated through the juxtaposition of bright colors, fabrics, and prints on streamlined silhouettes.